bluetooth and tethered barcode scanners
Tethered Scanners
General-purpose and multi-purpose tethered barcode scanners connect directly to your computer device, emulating a keyboard. Suitable for a wide range of applications, they provide accurate scanning for your business operation.
Cordless Scanners
Wireless and Bluetooth technology ensures secure wireless transmission of data and offers cordless freedom, maximizing efficiency and flexibility of movement throughout your work environment.
2D Scanners
We offer a number of scanners designed for reading 2D barcodes (also called matrix barcodes). 2D barcodes such as QR codes, data matrix, PDF417, and Aztec codes contain much more information than a traditional 1D linear barcode.
Rugged Scanners for the Honeywell Granit and Zebra DS models
We offer industrial scanners built for extreme environments. Ruggedized scanners are built to withstand multiple challenges: dust and dirt, heavy use/abuse, and sub-zero temps. They maximize productivity in even the harshest conditions.
The Granit is Honeywell's newest industrial barcode scanner. The rugged Granit works flawlessly in harsh environments, extreme temperatures, and can withstand dust, water, and 6-foot drops to concrete. It scans both linear and 2D barcodes, and it works great with vehicle-mount computers like the Honeywell Thor.
Cold Storage Scanners
We offer rugged industrial scanners for use in sub-zero temperatures. We also carry heaters to extend the range of these scanners in cold environments.
The Honeywell Granit has an operating temperature of -22 F / -30 C. It works great inside coolers and freezers with vehicle-mount computers like the Honeywell Thor.
Healthcare Scanners
Scanners with disinfectant-ready housing collect data while preventing the spread of disease.
Pocket and Companion Scanners
Small, lightweight, compact scanners can fit on your keychain or in your pocket. Take them anywhere you may need to collect data!
Mobile Computers
For more information about gun-style mobile computers with built-in scanners, please visit our Mobile Computers page.
DeltaOne offers all major brands of scanning hardware, including Honeywell and Zebra.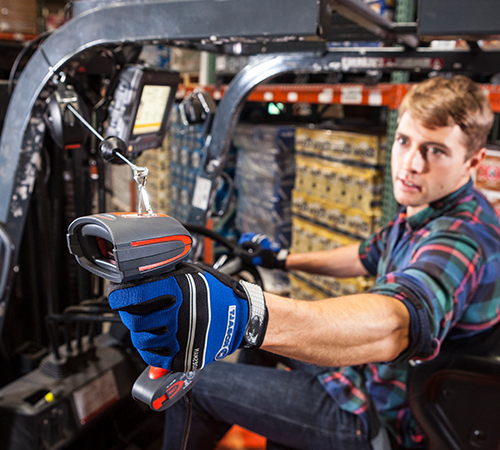 Additional Resources: